Well, it comes with deep regret, but since I hurt my back and surgery may be imminent, my XC racing days are done. I am looking for another Brute; therefore I am selling my Kawasaki KFX-700 V-Force.
This is a great bike in which I built with intention to race it this year in XC events. It has never been raced, only trail ridden. It has never been wrecked, crashed, rolled or flipped. I have really babied this machine since I have had it.
Here are the specifics. 2004 KFX-700 approx. 35 hours. Located in WV and may deliver depending on distance.
ODI Loc-On Grips
Relocated Shift Lever
AC Racing Skid Plates (front to rear with A-arms guards and swing arm guard)
AC Racing Pro Nerf Bars
ITP Pro Loc True Beadlock Wheels
New Maxxis Razr II front and rear tires
Stock wheels and tires 80%
Carburetor Kit
Dynatek CDI
Interstate Motorsports Clutch
Dalton Clutch weight and springs
Custom Graphics by Blown Concepts
IMS front bumper
DG Racing Rear grab bar
4.5 Gallon IMS fuel tank plus the stock tank.
Faast Flexx Handlebars
Trail Tech Vapor Odometer computer with mount, guard and risers.
Full Muzzy Pro stainless steel exhaust.
Header Wrap
Engine Ice coolant
Elka suspension with front Piggybacks and Rear with remote reservoir
Dura Blue X33 axle
Trail Tech X-bars (extra) with TT Risers.
Rox hand guards and bark busters
Rox extra risers.
AMR HD Tie Rods
Precision Racing PRO steering Damper
I may have missed something, but as you can see this machine is set up with everything thought of. I have well over 11,000 invested in this machine. I am selling it for $5200. This would be the perfect machine if you want to get started in racing GNCC U2 class. Or if you just want a fun quad that handles like a utility but performs like sport quad.
Here are the Images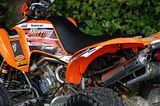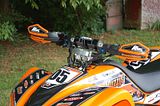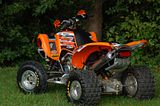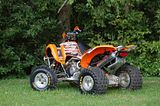 Contact me via PM for more information.