Discussion Starter
•
#1
•
I'm selling my beloved 2004 Twin Peaks with 800cc Four Stroke Tech big bore kit so that I can start a new ATV project (I plan to buy a Kawasaki KFX 700). As of now, this ATV has 1468 miles / 166 hours. Its in good used condition (see detailed description below).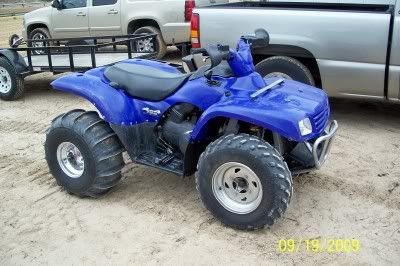 This 2004 FST Twin Peaks 800 is 4wd and very fast. It comes fully loaded (see list of upgrades below) and can be used for MULTIPLE PURPOSES such as Trail Riding, Drag Racing, Hunting, Cross-Country Racing, Yard Work, Mud Bogging, etc. I have invested $11,000 on this ATV (including purchase price and modifications)...so my loss is YOUR GAIN!!
*** LOCATION ***
This ATV is located in Conroe, TX (30 miles north of Houston). I will NOT ship it, but I will drive upto 250 miles to meet the buyer if the buyer pays for my gas money.
NOTE: This sale does NOT inlcude the rear sand tires as seen in the pics...instead, it will include stock tires and rims (all in good condition). This sale also includes the (stock) front and rear RACKS.
* * * $6,200 Worth Of UPGRADES * * *
FST 800cc big bore kit $1500
FST stage 3 cams (included in bbk price)
FST 11:1 pistons (included in bbk price)
AMR ported heads $600
YFZ 450 Catch Can mod $50
LTE dual exhaust with Ceramic Coating $950
36mm carbs with stock airbox mounted on top $250
FST intakes $100
Lightened Flywheel $150
Programmable Dyna CDI with Programming Software $375
VFJ Stage 4 primary clutch with roller bearing upgrade and new spider $350-ish
VFJ lightened secondary clutch $200-ish
Twin Air Power Flow kit $100-ish
ELKA Rear Shock $850
ELKA front strut springs $250
AC front bumper $125
PRM rear grab bar $100
Front strut tower brace $25
Mike Walker Oil Cooler $125
Aluminum full skid plate covers front end & engine $100
*** PERFORMANCE ***
Runs 5.2 seconds @ 57 mph in 300' sand drags with 220 lb. rider
Runs 8.7 seconds @ 71.5 mph in 1/8 mile asphalt drags with 220 lb. rider
***CONDITION ***
Everything works. It starts easy and RUNS VERY STRONG. The plastic fenders and other exposed parts have scratches and scrapes as normally expected from trailriding in the woods. The only mechanical problem that I'm aware of is a slight headgasket leak. The only symptom of this headgasket leak is that it pushes some coolant into the overflow canister if you run it hard. It still runs VERY STRONG despite this leak. If you buy this ATV, I highly recommend that you replace both headgaskets before you spend much time riding it just to be safe. Of course, this is a used and highly modified ATV, so it will be SOLD AS IS and without any warranties.
*** PRICE ***
$5,300 cash
***CONTACT INFO***
For serious inquiries, please call Mike at 281-898-8374 or send me a PM.
Happy trails...