Discussion Starter
·
#1
·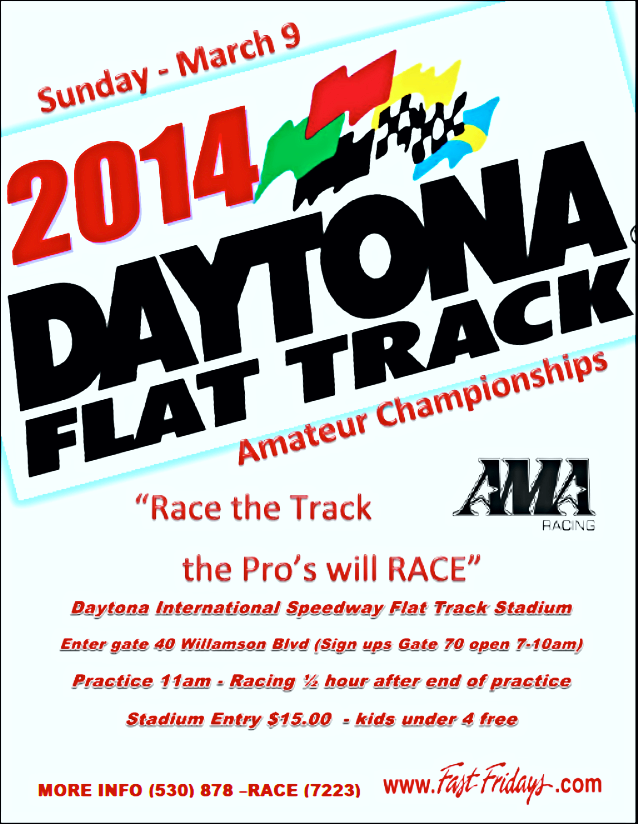 For all you Sport Quad Racers in the southeast US
Dave Joiner
from Fastfridays is promoting the AMA Amateur BIKE & QUAD FT racing this year at Daytona.
For those of you that enjoy FT racing ,there is lots going on next month with all the bike week racing ,there is FT racing in GA, Daytona, Volusia, and Ocala FL.
* NOTE *
QUADS
are only racing on
3-9-14
at the
Daytona International Speedway
.
Steve Nace dropped the quads from his promoted race dates this year !!
3-7-14
Oglethorpe Speedway
912-964-8200
pooler GA
1/2 mile
promoter
Steve Nace 270-442-7532
3-8-14
Oglethorpe Speedway
912-964-8200
Pooler GA
1/2 mile
promoter
Steve Nace 270-442-7532
3-9-14
Daytona International Speedway
1/4 mile
entry at gate #70
gate fee $15
registration 7:00 - 10:00
riders meeting @ 10:30
pratice @ 11:00
promoter
Dave Joiner
530-878-7223
3-9-14
Volusia Speedway Park
386-985-4402
De leon Springs FL
1/2 mile
promoter
Steve Nace 270-442-7532
3-10-14
Volusia Speedway Park
386-985-4402
De leon Springs FL
1/2 mile
386-985-4402
promoter
Steve Nace 270-442-7532
3-11-14
Volusia Speedway Park
386-985-4402
De leon Springs FL
1/5 mile
promoter
Steve Nace 270-442-7532
3-12-14
Marion County Speedway
352-812-3922
Ocala FL
1/4 mile
promoter
SDTA
863-441-5075