It's ready!!
This mod is for ALL Kawasaki, Suzuki, Arctic cat V2, and Teryx SxS vehicles utilizing the CVT transmission
Take one stock spider.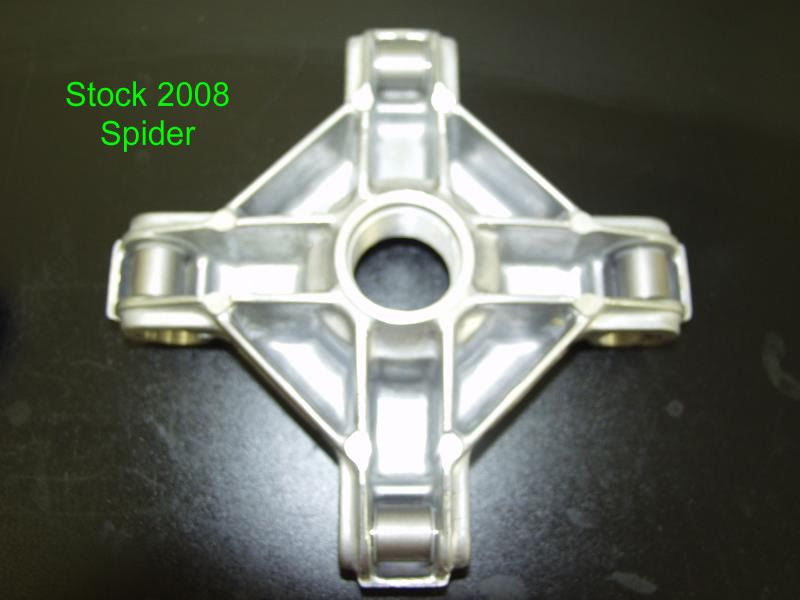 Remove the factory bushed rollers, Install 4 of these Custom Roller bearings
The spider unit will look like this
Comparison Pic LEft spider is the Rollers, Right is a bone stock 2008 spider
The bearings make the rollers move very free. You can press extremely hard on them even side load the bearings and there is ZERO bind.
The bearings also come with Custom PTFE Teflon bushings for side load. they also replace the junk nylon roller washers with super slick teflon.
These can be installed in any clutch spider. This will work in ALL kawasaki clutches. Bone Stock, Modded, Spidermodded, so long as they are not worn out or damaged in any way.
Replacing them in your spider is 185.00 This includes Labor to remove the spider from your existing clutch, install the new roller bearings and 2 day return ship the clutch back to you.
For older worn components or Higher horsepower machines you can opt to go with a thicker 2008 style spider and install the bearings right in them. The Complete Roller spider assembly can be purchaced outright for install for the do it yourselfers or Ship the Clutch to me and I'll install them in your existing clutch completely replacing the stock spider.
2008 Roller spider is 185.00 complete NOT INSTALLED IN A CLUTCH Shipping 9.00 extra for 2 day priority to you 194.00 total
Installed in your clutch fully replacing the stock spider includes all labor and 2 day return shipping to you. 260.00
If you run one of my Spidermodded clutches in an older clutch and opt for a new 2008 clutch the spider will be modified same as the last spider at no cost to you. THESE WILL NOT WORK IN CLUTCHES THAT HAVE NOT BEEN SPIDER MODDED. So in-other-words. don't have me mod it if you Don't already have it done.
John